Omar Abdullah, Ex Chief Minister of J&K, As Usual Playing Politics Over The Death Of A Terrorist
A commander of a Terrorist group Hizbul Mujahideen, Burhan Wani was killed on 8th July,2016
A commander of a Terrorist group Hizbul Mujahideen, Burhan Wani was killed on Friday in the South of Kashmir and it is one of the major breakthroughs for the Indian Army that has been looking for him for past few years.
So called liberals, seculars, intellectuals and senior journalists etc. are trying to set the narrative that Burhan Wani used "only" social media as a weapon and he was the son of a School Headmaster (Mathematics) of a Government School and Burhan was never personally involved in the attacks on Army Jawans, how can he be a terrorist?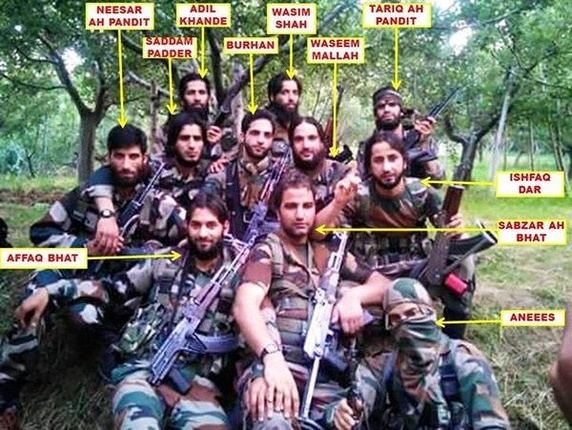 In Image:Terrorst Burhan Wani with his group
As per the intelligence report, Burhan was the poster boy of the social media. His videos, images and strong radical speeches got viral hit on Facebook and WhatsApp and lured young Kashmiri Muslims into Terrorist group. He was responsible for the recruitment of 60 young Kashmiri Muslims into Hizbul Mujahideen. "His last video had appeared on the social network after the killing of three policemen at Anantnag in South Kashmir last month in which he had threatened to carry out more attacks," - Firstpost reported.
Can we call him a Terrorist? Obviously he was a Terrorist & must be treated like other dangerous terrorists. If we go by narrative of so called Indian Seculars; Zakir Naik & Osama Bin Laden should not be considered as Terrorists because both were never involved personally in the attacks. Decide yourself, Should we call Burhan Wani a Terrorist or Social Media hero?
I don't know him personally but reading his Statements/Tweets, one can easily apprehend that he is not happy the way Army jawans were doing their duty and sacrificing their lives in eradicating Terrorism. His simple logic is: If we kill Terrorists in J&K, Kashmir Valley would be tensed and it would be impossible to control the situation."Alas Burhan isn't the 1st to pick up the gun & won't be the last. @JKNC_ has always maintained that a political problem needs pol. Solution," Omar Tweeted.
What kind of Political solution he wants?
1) Involvement of Separatists in all the meetings of Indo-Pak? If yes, then surely he is trying to score his brownie points. Who are separatists? Why should they be involved in the talks over Kashmir? What they did so far for Kashmir? Their only contribution towards Kashmir was to add fuel to the fire and lure young Kashmiri Muslims towards the so called propaganda of "Azadi" from India. Is Omar still wants their involvement in the talks of Kashmir between Indo-Pak?
2) Farooq Abdullah released 70 hardcore Terrorists in 1989 when he was the Chief Minister of J&K. After the release, Terrorism in the J&K state reached its pinnacle. Kashmiri Pandits were slaughtered and forced to migrate from the valley. Is this same political solution Omar Abdullah wants?
3) Sheikh Abdullah was the "Prime Minister" of J&K in 1953 and imposed mandatory visa restrictions for those who wanted to visit J&K state. In short, he propagated "Two Nation" theory. This is the clear case of perfidy against the Nation. Omar Abdullah who studied in London is also in support of Two Nation theory. He openly disseminated his views: "Mark my words & save this tweet – "Long after Modi Govt is a distant memory either J&K won't be part of India or Art 370 will still exist," Omar had tweeted on 27th May, 2104. Is this same political solution Omar Abdullah wants?
In one of the tweets, Omar warned that killing of Burhan Wani would lead to a tense situation in the valley. It means we must not kill Terrorists instead we must give them 'Jadu Ki Jhappi' because alive Terrorists that are recruiting others for so called propaganda of "Azadi" from India and killing others, is a negligible threat to India. May be Omar Abdullah has some "Creative Ideas" to handle Terrorism which his Father and Grandfather had tried during their tenure and created a hostile environment in the Kashmir valley which was once famous for Bollywood and the Kashmiriyat.
Some journalists went ahead and wrote an article "The Legend Of Burhan Wani". And some journalists held Indian Army responsible for the "extra judicial killing" of Burhan Wani. Some even didn't finch for a moment in shame and called him 'Commander Burhan' instead of Terrorist Burhan. Some even compared Burhan with Bhagat Singh and some called him 'Young Leader'. I hail them for their morbid moronic mind.
When these kinds of incident happens in the valley, I think an inculcating rush of crashing happiness runs inside the nerves of Indian Seculars and this type of views/mind set-ups make them to look like a lump in the eyes of the people of their own country.
Omar Abdullah and his family in their entire political career never ever criticized Syed Geelani, Yasin Malik and other separatist leaders. And recently, Omar didn't dare to call Burhan Wani a Terrorist! Is he really the sympathizer of Terrorist Burhan Wani?
I will leave it to you and decide yourself; Are these seculars, who have already started their ground work for the next 'Burhan Wani', dangerous for India?